v

 

Adamantite Armor


Top: Male Set


Bottom: Female Set

Information
Type
Armor
Sub-Type
Armor Set
Body Slot
Helmet/Shirt/Pants Slots (Full Set)
Set Bonus
Adamantite Headgear:
-19% Mana Usage

---

---

Adamantite Mask:
25% chance to not consume Ammo

Defense
50 with Helmet (Melee)
36 with Mask (Ranged)
32 with Headgear (Magic)
Quality
Sell Value
9  20  
The Adamantite Armor was the second best Armor in the PC version of the game, however as of v1.2, this is no longer true. A total of 54 Adamantite Bars are required for one full set (78 bars or 390 Adamantite Ore for the full set including all helmets). A full set without anything on the social slots will also produce a small aura effect when worn.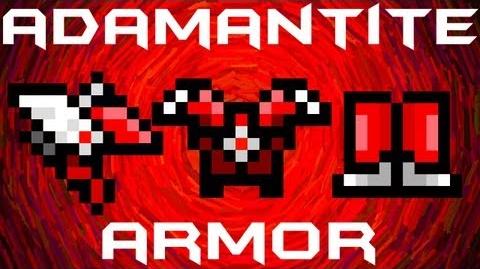 Parts of the Set
General
16 defense
6% increased damage
12 defense
4% increased critical strike chance
5% increased movement speed
Helmets
4 defense
increases maximum mana by 80
11% increased magic damage and critical strike chance
22 defense
7% increased melee critical strike chance
14% increased melee damage
8 Defense
14% increased ranged damage
8% increased ranged critical strike chance
Update Info
No longer a component in crafting the Hallowed Armor set.