v

388

Adamantite Drill

   
Information
Type
Tool
Sub-Type
Drill
Damage?
20
Pickaxe Power
180%
Use Time
24 (Fast)
Knockback
0 (None)
Highest Prefix

?

Demonic
Quality
Sell Value
2  16  
 The Adamantite Drill is a pickaxe-type tool that is a tier above the Orichalcum Drill, but a tier below the Titanium Drill. It can mine all of the blocks, except for Lihzahrd Temple Blocks and Chlyrophyte Ore.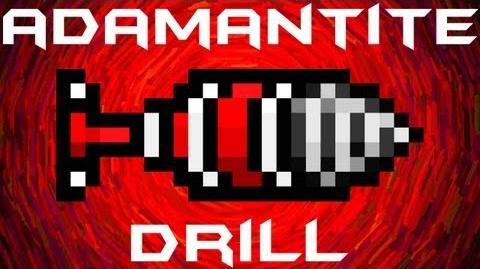 Update Info
Is no longer material in Drax.
Can no longer be reforged with size or knockback modifiers.
Pickaxes & Drills
Standard Pickaxes
Copper Pickaxe

Tin Pickaxe

Iron Pickaxe

Lead Pickaxe

Silver Pickaxe

Tungsten Pickaxe

Gold Pickaxe

Platinum Pickaxe

Nightmare Pickaxe

Deathbringer Pickaxe

Molten Pickaxe

Cobalt Pickaxe

Palladium Pickaxe

Mythril Pickaxe

Orichalcum Pickaxe

Adamantite Pickaxe

Titanium Pickaxe

Chlorophyte Pickaxe

Spectre Pickaxe

Picksaw
Nebula Pickaxe
Solar Flare Pickaxe
Stardust Pickaxe
Vortex Pickaxe
Drills

Cobalt Drill

Palladium Drill

Mythril Drill

Orichalcum Drill

Adamantite Drill

Titanium Drill

Chlorophyte Drill

Drax

Nebula Drill
Solar Flare Drill
Stardust Drill
Vortex Drill
Special Digging Tools
Cactus Pickaxe
Bone Pickaxe
Candy Cane Pickaxe
Reaver Shark
Pickaxe Axe
Shroomite Digging Claw