Adamantite Ore
is a type of ore that can be obtained once you have activated
Hardmode
and broken
Demon
/
Crimson Altar
with the
Pwnhammer
or better. Once you break every third of the altars the ore will appear in the world. You will either have Adamantite Ore or
Titanium Ore
spawned in one world, and not both.
To mine the ore, Mythril Drill or better is needed. Adamantite Ore, like all Hardmode ores, cannot be broken with Explosives. An easy way to find Adamantite is to go to the 'roof' of the Underworld and follow it along the length of the world with a Spelunker Potion.You need 5 adamantite ore to make a bar. Adamantite is required to craft Adamantite gear, which requires it to be smelted with an Adamantite or a Titanium Forge and crafted at a Mythril Anvil or Orichalcum Anvil.
Video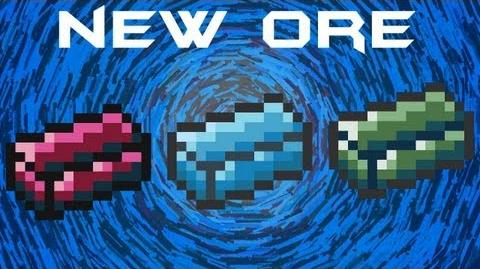 Trivia
Adamantite comes from the Greek word αδάμαστος (adamastos), meaning "untameable".
Adamantite also comes from the Greek word "adamant" meaning "hard."
Unlike Mythril Ore or Cobalt Ore, a brick cannot be made of it. According to a post by Redigit, however, Adamantite Bricks will be added in the upcoming update.
Adamantite was what the Greeks called diamond because it was so strong.
Adamantite appears in many games such as Elder Scrolls, World of Warcraft, Final Fantasy, and Maplestory.
Gallery
Update Info