v

481

Adamantite Repeater

   
Information
Type
Weapon
Sub-Type
Repeater
Damage?
40

Velocity (?)

10
Use Time
20 (Very Fast)
Knockback
2.5 (Very Weak)
Continuous Attack
Yes
Highest Prefix

?

Unreal
Quality
Sell Value
2  40  
The Adamantite Repeater is the third tier of the Repeater class of Ranged Weapons and the 10th tier of the Bow class. It uses any Arrow as ammunition. It is the fourth best repeater in the game, below Titanium Repeater, Hallowed Repeater and Chlorophyte Shotbow. It has a fast firing rate and a lot of damage, making it a worthy weapon to have later on in Hardmode.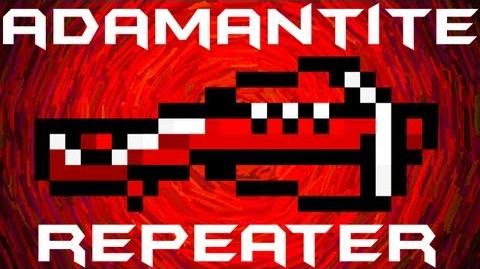 Notes
Despite the repeater's sprite being based off of a crossbow, it does not fire bolts.
Update Info
Damage increased from 37 to 40.
Gallery