Antlions are one of the three mobs found in the desert, the other being the Vulture and (in Hardmode) the Mummy. They're the first mob to shoot non-magical projectiles at the player, which are affected by gravity. They remain stationary with their head sticking out of the sand, and will shoot sand at you until you are out of range, or dead. It is also possible for Antlions to spawn in any area of sand that is not a desert biome, for instance they may spawn in the Ocean Biome (above the sea but still on sand).
A good tactic for fighting these if you do not have a ranged weapon is to wait for it to shoot at you, charge at it with a melee weapon, and continually hit it from opposite sides. Another good way to fight it is to dig a ditch beside it until half its body (buried in the sand) is visible and shoot at its side from below and to the side, since it will only shoot upwards.
Alternatively, if you set up a small pillar in between you and the antlion, a flail weapon can be used to hit the antlion while you stand in safety.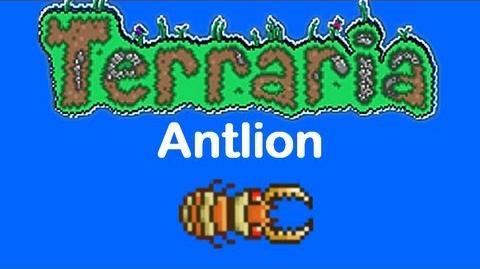 There is a 10% chance that an Antlion will drop an Antlion Mandible, which is used in making the Sandgun, crafted with 5 Topaz, 1 Illegal Gun Parts, and 10 Antlion Mandible.
The sand blocks around the Antlion can be removed without hurting it. However, it must always have at least one column of two sand blocks. If one of the sand blocks is removed, the Antlion sinks down a layer. If a block is added on top of the column, the Antlion moves up a layer.
It is possible for the Antlion to survive on different types of blocks other than sand. This can be done by removing the sand that the Antlion is sitting in and making it move down onto a different block. The Antlion will act as if nothing is different and will still launch sand at you. If the sand is dodged, it will land on the ground as normal. Also, it is possible for the Antlion to spawn at only one block of sand placed on dirt, although he won't be able to attack and you can normally kill it .
The Antlion is based on the real life Antlion Larva.
The Antlion is often said to be a reference to the creatures known as Antlions from Half-Life 2. However, the two bear virtually no resemblance.
It is also not a reference to Final Fantasy.
The Antlion, in Spanish traduction of Terraria, the name is Lion Ant.
The Antlion's unique projectile can also be made useful for a sand farm.
You can farm Antlions by finding a large desert and making it flat. You then run back and forth across the desert from side to side until you find them. This is useful for getting money and Mandibles to make a Sandgun.
You can farm sand off of them by building a (at least) 4 block high tower with 2 blocks on top. If you stand on top of that tower, the Antlion will still shoot sand at you, but the sand will hit the tower.

There is a bug where Antlions are sometimes spawned completely under the sand. (1.0.5 only)
It is very rare, but it is possible for Antlions to climb on large sand structures.
Update Info
Edit