The
Arms Dealer
is an
NPC
that will move into a suitable house once the player has a
firearm
of any kind. The fastest way to get the arms dealer to move in to your home is to destroy
Shadow Orbs
or
Pulsating Hearts
. (which have a chance to drop a 
Musket
and
The Undertaker
respectively)
Despite the Flare Gun being able to deal minimal damage with Flares, it does not fulfill the Arms Dealer's spawning requirements as it is not identified as a weapon.
Services
The Arms Dealer is a vendor who primarily deals in ranged weapons and related items, such as ammunition. To this end, he sells a variety of guns (including the Minishark and Shotgun, which can be found nowhere else) in addition to basic ammunition.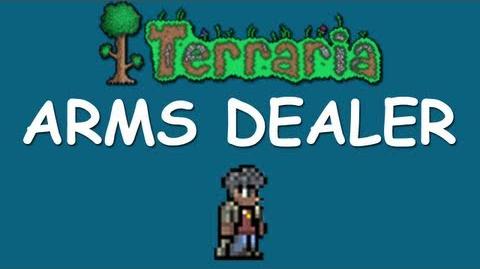 Defense
He uses a Flintlock Pistol to defend himself. However, he upgrades it to a Minishark when Hard Mode begins. The Flintlock and Minishark deal the exact same damage, however the Minishark is significantly faster.
Sells
Arms Dealer's Quotes
"Make it quick! I've got a date with <Nurse's name> in an hour." (Nurse must be present).
"Keep your hands off my gun, buddy!"
"<Dryad's name> is a looker. Too bad she's such a prude." (Dryad must be present).
"I see you're eyeballin' the Minishark.. You really don't want to know how it was made."
During a blood moon:
"I love nights like tonight. There is never a shortage of things to kill!".
"Don't bother with <Demolitionist's name>, I've got all you need right here." (demolitionist must be present)
"What is <Demolitionist's name>'s problem? Does he even realize we sell completely different things?" (Demolitionist must be present).
"I want what <Nurse's name> is sellin'. What do you mean, she doesn't sell anything?" (Nurse must be present).
"Hey, this ain't a movie, pal. Ammo is extra." (Possibly a reference to most movies, where there is infinite ammo).
A bugpresumably causes this to be the only thing he says when Skeletron is defeated, but the Wall of Flesh is not, even if the Guide is dead.
"I heard there is a doll that looks very similar to <Guide's name> somewhere in the underworld. I'd like to put a few rounds in it."
Arms Dealer's Names
Andre
Brimst
Bronson
Dante (May be a reference to Dante, the protagonist of the Devil May Cry series.)
Darius
Darnell
Darryl (May be a reference to Daryl Dixon from The Walking Dead.)
DeAndre
Demetrius
DeShawn
Dominique
Jalen
Jamal
Malik
Marquis
Maurice
Reginal
Terrance
Terrell
Tony
Trevon
Tyrone
Willie
Xavier
Trivia
Update Info