The
Blade of Grass
is a sword made from jungle materials with the second longest melee reach in the game (second only to the
Breaker Blade
). The Blade of Grass is able to hit
monsters
that are behind your character. The Blade of Grass is also a good weapon to use against the
Eye of Cthulhu
due to its relatively easy accessibility, wide arc of fire, and ability to poison. The Blade of Grass is one of the four swords required to craft
Night's Edge.
This sword is one of the best pre and early post hardmode swords doing an average of 40 damage.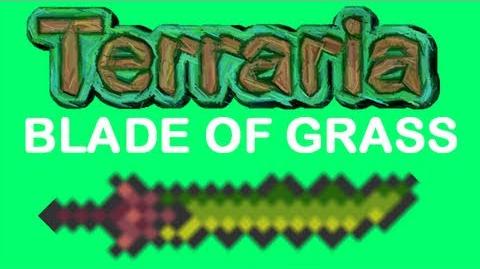 When you swing the Blade of Grass, it makes the same particle effect as cutting grass in the Underground Jungle.
The Blade of Grass is one of the 3 best swords on pre-hardmode.
The sword's name is a play on words, referring to the fact that a single grass sprout is called a 'blade' of grass.
Possible reference to the mythical sword Kusanagi.[1]
Update Info
Edit
No longer requires a Silver Broadsword or Jungle Roses to be crafted.
Uses Jungle Spores instead.
No longer a drop from hornets.
Changed speed to Average from Slow.
Extended range.
Has a chance to inflict Poisoned debuff.
References
Edit
↑ Kusanagi. (2012, March 10). In Wikipedia, The Free Encyclopedia. Retrieved 17:55, March 24, 2012, from http://en.wikipedia.org/w/index.php?title=Kusanagi&oldid=481186609.