v

1379

Blue Tiled Wall

   
Left: Blue Bricks over Blue Tiled Walls
Information
Type
Block
Sub-Type
Wall
Placeable
Yes
Max Stack
999
Quality
Sell Value
No Value

Crafting
This item cannot be crafted.
Blue Tiled Walls are generated in a Blue Dungeon and can be used for making a House like most other walls.
It allows Hell Armored Bones, Diabolist, Tactical Skeleton and Giant Cursed Skull to spawn in the dungeon after Plantera is defeated.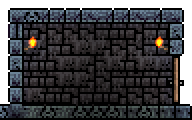 Update Info