v

 

Bunny (Monster)

Stats
Type
Monster
­
HP
5
Rarity
Very Common
Attack
0
Defense
0
Variety
Corrupt Bunny
Spawn Time
(Anytime)
Spawn Area
Surface (Anywhere)
Summoned By
Carrot (Collectors Edition only)
Drops
Bunny Banner
0.5%
Bunny Hood
1.33%
Bunnies are common, harmless creatures that spawn during the day and sometimes during the night. They do not inflict damage on players. They can be found anywhere on the surface of the map and sometimes Underground. Unlike most monsters, they can only make little hops of about 1 block high.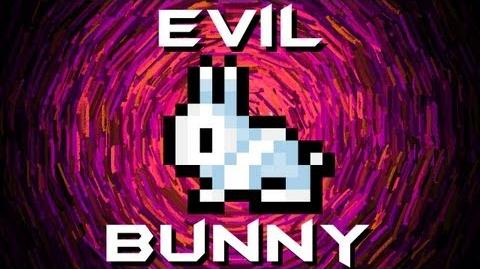 A Bunny yields a Bunny (Material) when caught with a Bug Net.
Once Vile Powder is thrown onto a bunny, or if it is a Blood Moon, it becomes a Corrupt Bunny, which can do damage to the player and has a 1/75 chance to drop a Bunny Hood on death.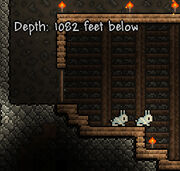 If a player obtains a Carrot in the Collectors Edition of Terraria, a pet bunny will start to follow the player. Its color depends on the color of the players
shirt.

Notes
As of update 1.2, Bunnies spawned from a Statue do not drop coins if they become corrupted due to a Blood Moon (though they can still drop Bunny Hoods).
Bunnies can now be captured and put in Bunny Cages.
(Mobile Version) If the Lepus had not been defeated, bunnies may randomly turn into a hostile mob called a Diseaster Bunny and attack, regardless of time.


Sometimes, when the player is deep underground(usally near lava), the game may spawn bunnies around the cave as if the player was on the surface. This could cause players to look around for Bunny Statues. It is unknown what causes this.
Update Info
Bunnies can be killed by monsters.
Bunnies now wear costumes when it is Halloween.
Bunnies can now be killed.