v

Bunny Mount

 

   
Information
Type
Mount/Pet
Summoned with
Fuzzy Carrot
The
Bunny Mount
is summoned by using the
Fuzzy Carrot
which is a quest reward from the
Angler
. The player will get it upon completing their fifth quest. It's a pretty fast land mount and excels on long stretches of land or skybridges. The
Sandstorm
,
Blizzard
and
Cloud in a Bottle
items can be used while riding the mount, however as it cannot fly it does not negate falling damage. This mount is faster than a player without speed increasing items such as
Hermes Boots
, 
Spectre Boots
, 
Lightning Boots
, 
Swiftness Potion
, etc.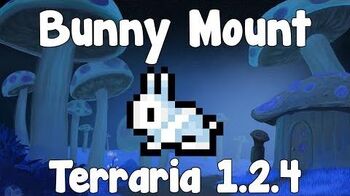 Notes
The buff description is "You are craving carrots".
If used when you have deployed your wings, it will use up all flaps and go into gliding.
Update Info
Ad blocker interference detected!
Wikia is a free-to-use site that makes money from advertising. We have a modified experience for viewers using ad blockers

Wikia is not accessible if you've made further modifications. Remove the custom ad blocker rule(s) and the page will load as expected.