Ad blocker interference detected!
Wikia is a free-to-use site that makes money from advertising. We have a modified experience for viewers using ad blockers

Wikia is not accessible if you've made further modifications. Remove the custom ad blocker rule(s) and the page will load as expected.
v

929

Cannonball

Information
Type
Ammo
Sub-Type
Cannon
Damage?
300
Use Time
19 (Very Fast)
Knockback
0 (None)
Max Stack
999
Consumable
Yes
Quality
Tooltip
For use with cannon
Purchase From
Pirate
Purchase Value
15  
Sell Value
3  

Crafting
This item cannot be crafted.
The Cannonball is used as ammo for the Cannon. Both of these items are purchasable from the Pirate at any time.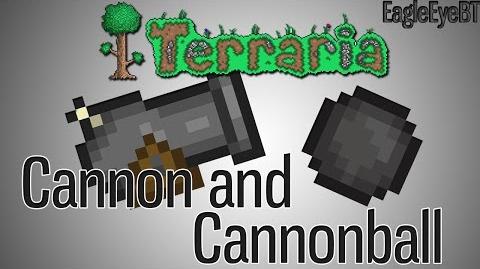 Update Info
Ammo
Arrows
 Chlorophyte Arrow
 Cursed Arrow
 Flaming Arrow
 Frostburn Arrow
 Hellfire Arrow
 Holy Arrow
 Ichor Arrow
 Jester's Arrow
 Luminite Arrow
 

Spectral Arrow

 Unholy Arrow
 Venom Arrow
 

Vulcan Bolt

 Wooden Arrow
Bullets
 Chlorophyte Bullet
 Crystal Bullet
 Cursed Bullet
 Exploding Bullet
 Golden Bullet
 High Velocity Bullet
 Ichor Bullet
 Luminite Bullet
 Meteor Shot
 Musket Ball
 Nano Bullet
 Party Bullet
 Silver Bullet
 Venom Bullet
Solutions (Clentaminator)
 Blue Solution
 Dark Blue Solution
 Green Solution
 Purple Solution
 Red Solution
Rockets
 Rocket I
 Rocket II
 Rocket III
 Rocket IV
Unique
 Candy Corn
 Coins
 Explosive Bunny
 Explosive Jack 'O Lantern
 Fallen Star
 Flare
 Gel
 Nail
 Poison Dart
 Sand Block
 Seed
 Snowball
 Stynger Bolt
 Stake