v

1865

Celestial Stone

Information
Type
Accessory
Body Slot
Accessory Slot
Bonus
+10% Damage
+4 Defense
+2% Critical Strike Chance
Higher melee speed
Faster life regeneration
Higher minion knockback
Quality
Tooltip
Minor increase to damage, melee speed, critical strike chance, life regeneration, defense, pick speed, and minion knockback
Sell Value
8  
The Celestial Stone is a craftable accessory. It has similar bonuses as Moon stone and Sun Stone but Celestial Stone has additional modifiers and works any time of the day.
Bonuses:
+ 10% Damage
+2% critical strike chance
+4 defense
Additional melee speed
Faster life regeneration
More minion knockback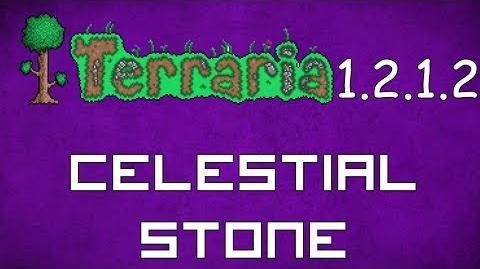 Update Info
Became an ingredient in the Celestial Shell.
Ad blocker interference detected!
Wikia is a free-to-use site that makes money from advertising. We have a modified experience for viewers using ad blockers

Wikia is not accessible if you've made further modifications. Remove the custom ad blocker rule(s) and the page will load as expected.