v

133

Clay Block

Information
Type
Block
Sub-Type
Material
Placeable
Yes
Max Stack
999
Quality
Sell Value
No Value
Clay Blocks are a common material found in The Underground and surface along with Dirt Blocks, Stone Blocks and Mud Blocks. Clay Blocks are used in a number of decorative items and crafts.
Notes
Clay Blocks can be used to stop the spread of the Corruption,The Crimson and the Hallow, but must be at least 3 blocks thick to stop the spread.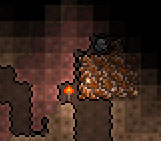 Bugs
When a Dirt Block gets turned off by an Actuator and is mined, the player gets a Clay Block.
Update Info
Stack size increased from 250 to 999