Cloud Walls create the base for Floating Islands. Once collected with a hammer, they can be placed elsewhere. Using bombs is an effective way of gathering it faster. They are slightly translucent, and the sky can be seen through them.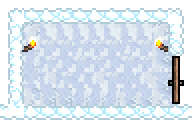 Update Info
Ad blocker interference detected!
Wikia is a free-to-use site that makes money from advertising. We have a modified experience for viewers using ad blockers

Wikia is not accessible if you've made further modifications. Remove the custom ad blocker rule(s) and the page will load as expected.