v

483

Cobalt Sword

   
Information
Type
Weapon
Sub-Type
Broadsword
Damage?
39
Use Time
23 (Fast)
Knockback
3.85 (Weak)
Continuous Attack
Yes
Quality
Sell Value
1  38  
The Cobalt Sword can be crafted at an iron anvil with 10 Cobalt Bars. It is considered to be one of the weaker hardmode Tier weapons.  It is usually one of the first weapons players may craft after defeating Wall of Flesh and then destroying the first Demon Altar or Crimson Altar if the world spawns Cobalt instead of Palladium
Notes
Minus the generated light, this weapon could be considered a slower, more powerful, Hard Mode version of the Muramasa.
This weapon, with a knockback buff, can be used for the entirety of Hardmode, until Excalibur is obtained, due to its speed and autoswing.
Trivia
The weapon bears a resemblance to a weapon called a dai katana. The katana has the handle and guard, but the blade is enlarged to twice the normal thickness. This type of katana is not often seen, being mostly harder to wield. The weapon also bears a resemblance to Muramasa.
Update Info
Damage increased from 34 to 39.
Gallery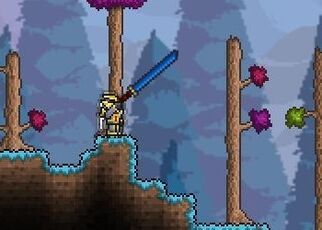 Ad blocker interference detected!
Wikia is a free-to-use site that makes money from advertising. We have a modified experience for viewers using ad blockers

Wikia is not accessible if you've made further modifications. Remove the custom ad blocker rule(s) and the page will load as expected.