v

 

Copper Axe

Information
Type
Tool
Sub-Type
Axe
Damage?
3
Axe Power
35%
Use Time
30 (Average)
Knockback
4.5 (Average)
Quality
Purchase From
Merchant
Purchase Value
4  
Sell Value
80  
Copper Axes are the first tier of Axes, below the Tin Axe. Like all axes, it is used to chop down Trees to collect Wood and Acorns. Newly created characters and newly respawned players (who are playing on Mediumcore) will spawn with a Copper Axe.
The Copper Axe can be crafted with 9 Copper Bars and 3 Wood at an Iron Anvil. It is not suggested that you craft one unless you lost the one you spawned with, or you accidentally sold it.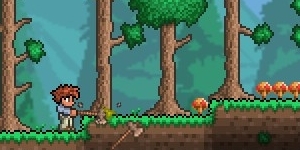 Trivia
Update Info
Now has a -1 range penalty.
Can now possess prefixes.