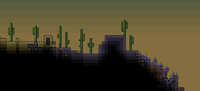 The Corrupt Desert is a biome that was added in the 1.1 update.
When Hardmode is activated, Corruption will spread to other blocks, including sand. When the Corruption, this includes Vile Spit attacks from a Corrupter or Unholy Water, comes into contact with Sand, it becomes Ebonsand, which makes up the Corrupt Desert.
Corrupt thorns will not grow in the Corrupt desert.

It is possible for the background to change to the corrupt desert background before the Wall Of Flesh is killed. This happens when there is too much corruption beside a desert.

It

is

able to be corrupted from the underground corruption if the sand is deep enough.

This biome spawns corrupt

Cactus

and

Dark Mummies

.

Unlike the hallowed and regular deserts, it does not produce

Waterleaf

.
Update Info
Edit