Corrupt Goldfish
Comments

48
1,349pages on
this wiki
The Corrupt Goldfish is the corrupt version of the Goldfish. A Goldfish becomes a Corrupt Goldfish when a player throws Vile Powder on it, it spawns in the Corruption, or the Blood Moon event is in progress. This enemy is aggressive but it cannot leave the water to attack unless the water is drained. Fish Statues spawn Corrupt Goldfish during Blood Moons instead of normal Goldfish. These statue-spawned enemies drop 5-7

when killed, allowing coin farming during Blood Moons.
Corrupt Goldfish attack in much the same way as the Piranha from the jungle and cave biomes. If it senses The Player in the water, it swim towards them at a moderate speed.
Corrupt Goldfish cannot be turned back into Goldfish.
Corrupt Goldfish will not die if they are out of Water.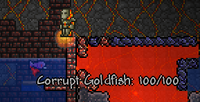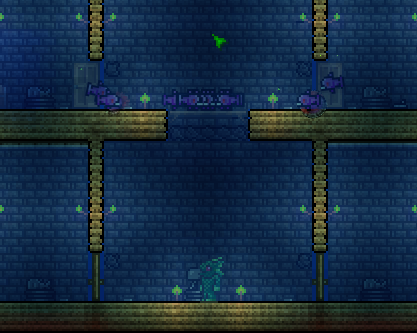 Update Info
Edit