The Demon Altar
is a crafting station that can be found in
Chasms
in the
Corruption
,
Underground
and very rarely in water above ground or in
Dungeons
.
The Demon Altar is used to create the following items: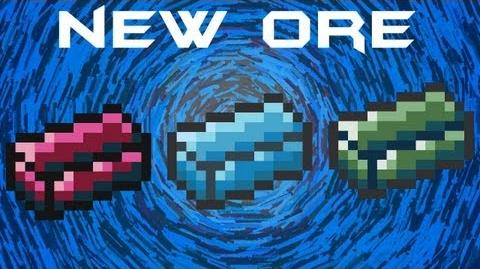 As of the 1.1 update it is possible to destroy these altars. Destroying them "blesses" your world with one of the three new ores: Cobalt Ore, Mythril Ore and Adamantite Ore (rotating in that order). Blessing your world turns some naturally generated blocks (from the underground or below) into the new ores and places one Pearlstone Block and Ebonstone Block randomly in the stone layer. By destroying more altars, your world will get more of the new ores, but every 3rd reduces the amount of ore that will spawn in your world.
The only way to destroy a demon altar is to use the Pwnhammer or Hamdrax, but only if Hardmode is active in the world you're attempting to break it in.. The Pwnhammer is always dropped by Wall of Flesh. If you try to destroy a demon altar with a hammer other than the Pwnhammer or Hamdrax, you will take damage and the altar will be unaffected. You cannot break Demon Altars before Hardmode.
When an Altar is broken and the world is blessed with the ore X, the quantity of spawned ore will be (Ore X spawned first time) / (Number of times world has been blessed with ore X). So if the first Demon Altar spawned 10000 ore X, the second (Actually 4th because of ore cycling) will only spawn ~5000, the third ~3300, the fourth ~2500 and so on (because of the ore spawning algorithm). Because of this, it may be wise to destroy only a few altars because while the ore-spawning is less effective, the world still converts random stone tiles into ebonstone or pearlstone, rendering both biomes less controllable. Also, it may be wise to keep always at least one altar in any given world to avoid losing its crafting recipes.
The cycle the ore spawns when a Demon Altar is broken will be in order from weakest to strongest (Cobalt-Mythril-Adamantite). The cycle will then repeat.
Hitting a Demon Altar with a hammer other than the Pwnhammer or Hamdrax or in pre-hardmode will result in the player losing half their current Health Points minus armor.
On a new character with no armor and using a Wooden Hammer you will lose 50, 25, 13, 6, 4, 2, 1 health. Therefore it will always half your current health rounded to the nearest digit.
If the Demon Altar spawns on sand and you break the blocks under the sand, the Demon Altar can be destroyed without the Pwnhammer, however your world will not be blessed.
The Demon Altar creates a small flicker of purplish brownish light that can be used to help locate them.
Demon Altars can sometimes spawn in the Ocean, but this is very unlikely.
Destroying a Demon Altar is directly associated with Wraiths Spawning.
Demon Altars do not spawn or respawn, there are a set number when the world is generated.
Demon Altars can not be picked up after their destruction, as they simply vanish.
Once you destroy all Demon Altars in a world, you will no longer be able to obtain any more of the Hard Mode ores and anything that requires a Demon Altar as a crafting station.
It is possible to have 5 Demon Altars spawned directly below, and in the vicinity of, the spawn point.
It appears that all Demon Altars spawn within a very thin window of depth, only several blocks wide. Digging a horizontal tunnel through the map, albeit very time-consuming especially in large worlds (8400*2*3 blocks without holes), would allow one to find every demon altar.
In Alpha the Demon Altars were used to make certain armors.
If you try to break a Demon Altar while you're in Pre-Hardmode or with a Molten Hamaxe or lower, you'll get damaged like said earlier, but if killed, the Death Message says only your name: <Player Name>
It would appear that in 1.1 worlds, Demon Altars are spawned in amounts divisible by 3.
Sometimes, mostly in the corruption (maybe only in the corruption), a block may spawn stuck inside a demon altar (such as Demonite Ore or ebonstone blocks, and if this altar is hit with a hammer, it will disappear, the world will not be blessed, and you will be hurt. This can also happen by the altar missing a part of it. Hammering it will do the same as above.
When using Purification Powder on a demon altar, even on normal mode, the demon altar is destroyed. (This may be a glitch, at least on the Xbox 360)
On the Xbox 360 version of Terraria, shooting an ice rod block onto a demon altar will destroy it. Breaking it this way WILL create new ore in the world.
Rarely, on Xbox 360, demon altars may spawn in air.
Will sometimes be invisible, or missing blocks of it, but can still be mined and will still give off a faint glow, even when invisible.
Update Info
Edit