Demon Wings are tied with Angel Wings for being the most effective flight-enabling item in the game. They produce a flapping sound when used.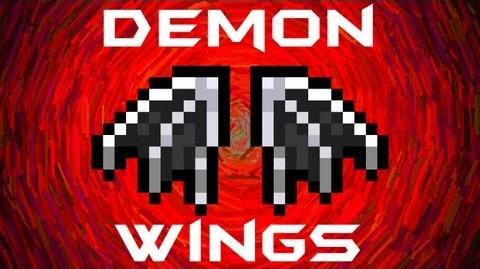 Without Rocket/Spectre Boots, wings allow for 5 flaps worth of flight time. When stacked with either pair of boots, the flight time is extended to 12 flaps if the player starts from the ground, or 8 flaps if the player starts hooked to a surface via a grappling device. You can also float down slowly by continuing to hold the jump button after the max flying distance. The Demon Wings also negate all fall damage, regardless of whether or not you are floating. While wearing the Hermes Boots or Spectre Boots, you will be able to fly more quickly.
Jump height comparison table
Edit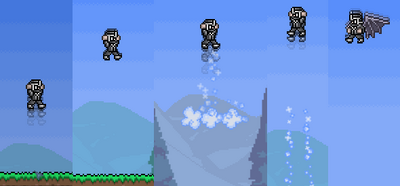 Demons, Voodoo Demons and Slimers have demon wings, but do not drop them upon death.
There is no functional difference between Angel Wings and Demon Wings. There is, however, a slight difference in the crafting recipe: Angel Wings require Souls of Light rather than Souls of Night.