The Depth Meter is an accessory that tells the player how far above or below your character is from the surface level. The surface level is defined as the point where the background wall changes. It will display "feet above", "feet below", or "level" as relation to the biome change horizon between The Underground and the Forest. One in-game block represents 2ft on the Depth Meter. This suggests the character and other humans are just under 6ft (1.8 meters) tall and occupy an area a little less than 4ft wide.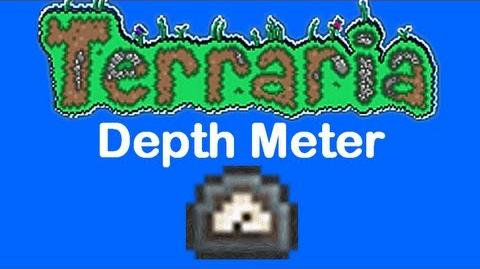 The Depth Meter is a recommended accessory to use when looking for the Floating Islands, since most of them are floating at around the same height. Then you can easily build a skybridge across to the other Floating Islands. (This strategy is most effective on "Small" worlds.)
When looking at a sign with writing on it isn't shown, but when looking at a blank sign it remains unaffected.
Update Info
Edit
Gained the ability to be crafted into a GPS.