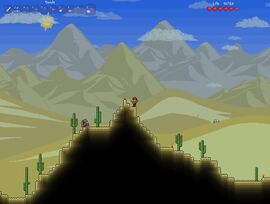 The
Desert
is a biome composed mostly of
Sand Blocks
.
Cacti
and
Waterleaf
grow in this biome.
Antlions
,
Vultures
, and
Mummies
also spawn in the Desert.
In Hardmode worlds, Hallow and Corruption can spread into sand, creating Pearlsand and Ebonsand. This can make the Desert biome very easily converted into a Hallowed or Corrupt Desert. The normal Desert biome and the two Hardmode variants are different in several ways:
Background changes.
Light or Dark Mummies spawn.
Stylized Cacti grow, while not changing in function (they still drop the Cactus item when destroyed).