v

114

Dirt Rod

Information
Type
Item
Sub-Type
Spell
Mana Cost
5
Quality

Tier 1 (Blue)

Tooltip
Magically moves dirt.
Purchase From
Dryad
Purchase Value
20  
Sell Value
4  
Crafting
This item cannot be crafted.
The
Dirt Rod
is a usable magical
tool
that moves a single block of dirt around for an unlimited amount of time and costs 5 mana to use. It allows the player to place and remove dirt by using the cursor. When released, the dirt will hang in the air (if on a background) or drop and reform (if there is no background). The dirt can also be flung. It is currently bought from the
Dryad
at the price of 20 gold coins.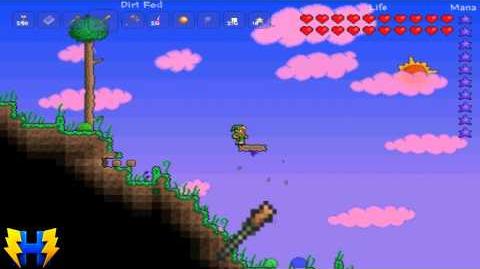 Utilities
It may have a use during a Blood Moon to remotely lock the entrances of a player's base or to pour lava onto the Zombies without exposing the player to harm. It also has a use in the form of safe Obsidian farming by filling a tank with water, and remotely uncorking a pool of lava to pour onto the water to form Obsidian.
As of the 1.0.6 patch, you can no longer place items on lava to cover it up (barring sand), but using the dirt rod, you can block the lava with controlled dirt. This is one lava block per 5 mana.
The Dirt Rod can also be used to remotely add obstacles for the Thorn Chakram which allows for it to bounce off of more blocks. It also has a use in removing small amounts of water in a chamber remotely. Rapidly clicking on a dirt block causes water to flow into the block's space upon picking it up and when the block is dropped it then destroys that water. This can destroy one blocks worth of water per 5 mana click. (As of the 1.1.1 patch, this no longer works.)
There was one bug that allowed the player to use the Dirt Rod as a weapon in single player (No longer able to be performed). You first put a sand block on top of a dirt block. When picking up the dirt block, the sand block would fall into it. The floating dirt would then continuously damage the player and monsters the same way falling sand did. It would slowly hit the player for 20 damage and hit the monsters for 10 damage (reduced by defense) Upon placement of the dirt block, the sand will drop out, duplicating itself. The damage would not change if more than one block of sand was absorbed by the floating dirt.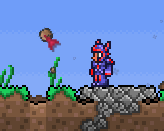 This was a very effective way to remove large piles of sand. Unfortunately, as of the v1.0.5 patch, this glitch was fixed and the dirt rod can no longer be used as a weapon (in the same way) or for duplication purposes. If you put a block of sand on top of a dirt block and use the dirt rod on said block in v1.0.5, the sand will still fall but will not be picked up with the dirt block.
You can still use this as a weapon by making a wall of sand with a large amount of dirt underneath and continue to pull out the dirt, dealing damage to any monsters or players that walk into it. However, this method is not entirely practical since it would cost a large amount of mana to do minimal damage.
One bug in multiplayer allowes unlimited dirt if there is a protected house, by moving the dirt, another replaces it and it keeps going until you have enough dirt.
Notes
Although the Dirt Rod can remove grass and corrupt grass of the target, it can't be used on Hallowed Grass.
Sometimes the held block turns into a dropped dirt block. This always happens on Console versions of the game, as such cannot be placed down again.
There is a bug on the Console Version that disallows placing the dirt block again. Instead it will only become an item.
Trivia
Red, one of the developers, mentioned that the price may be halved due to the supposed uselessness beyond entertainment value.
Update Info