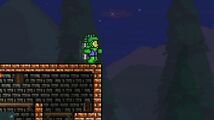 This item is found only in the console version of Terraria.
The Dragon Armor is one of the three console-exclusive armor sets and the Warrior counterpart to the Spectral Armor (Set) and Titan Armor. It is the strongest armor set for melee available in the game, and a recolored version of the Jungle Armor. It consists of the Dragon Mask, Dragon Breastplate, and Dragon Greaves.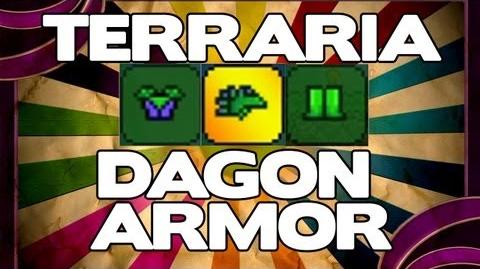 Information
The Parts can each be crafted with the counterparts of the Cobalt Armor, Mythril Armor, Adamantite Armor and Hallowed Armor as well as 20 Souls of Blight and (except the Helmet) 20 Souls of Might. All parts are crafted at a Mythril Anvil.
The stats are:

Dragon Mask:

26 defense
15% increased melee damage
15% increased critical strike chance
Dragon Breastplate:

20 defense
10% increased critical strike chance
5% increased melee speed
Dragon Greaves:

14 defense
12% increased movement speed
2% increased melee speed
The full Dragon Armor set has higher stats than the Hallowed Armor set.
Notes
Gallery
Update info
Console Release