v

Dryad

20
Information
Type
NPC
Sub Type
Town
HP
250
Defense
15
The Dryad is an NPC (Non-playable character) that will move into an empty house once you've killed a boss. The easiest bosses to kill would be the Eye of Cthulhu or the Eater of Worlds. The Dryad reveals in conversation that she is 500 years old. She's one of three female NPCs, the other ones being the Nurse and the Mechanic. The Dryad can tell you the percentage of Corruption vs. Hallow in the world. She also does not drop any items upon death.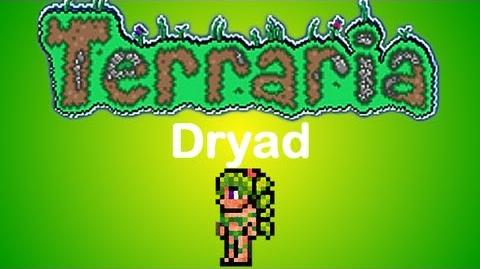 Dryad's Quotes
"Whats this about having more 'bark' than bite?"
"So two goblins walk into a bar, and one says to the other, 'Want to get a Gobblet of beer?'
"You must cleanse this world of its Corruption."
"The sands of time are flowing. And well, you are not aging very gracefully..."
"Be safe; Terraria needs you!"
"Have you seen the Old Man walking around the dungeon? He doesn't look well at all..." (Only when the Clothier is not present)
"I wish (Arms Dealer Name) would stop flirting with me, doesn't he realise I'm 500 years old?" (Only if Arms Dealer is present)
"Why does (Merchant Name) keep trying to sell me an Angel Statue? Everyone knows that they don't do anything." (Only if Merchant is present)
On Blood Moon
"It is a evil moon tonight. Be careful."
"I sell what I want! If you don't like it, too bad."
"Why do you have to be so confrontational during a time like this?"
"Dude, is it just me or is there like a million zombies out tonight?"
"I don't want you to buy my stuff. I want you to want to buy my stuff, ok?
Corruption vs. Hallow
"You should try harder" (tested at 2% hallow vs 7% corruption, 5%/15%)
"Keep up the good work!" (tested at 17% hallow vs 6% corruption, 50%/4% and 92%/1%)
"Things are grim indeed" (tested at 2% hallow vs 12% corruption, 1%/53% and 1%/92%)
At 0% corruption she will just say "<World> is x% hallowed. Keep up the good work!" (tested at 97% hallow vs 0% corruption)
Dryad's Names
Note: Upon adding a new name, make sure you add it according to the ABC list.
Alalia (referencing the Battle of Alalia - an ancient Corsican battle between the Carthageans and Cadmeans)
Alura (Possibly a reference to the half-plant, half-girl monster known as Alura Une or Alraune.)
Ariella
Caelia
Calista
Celestia
Chryseis (Greek mythology)
Elysia (A reference to the Elysian fields in Hades's Underworld.)
Emerenta
Evvie
Faye (A pun on Fey, a collective name for nature spirits like fairies and of course, Dryads)
Felicitae
Isis (The Egyptian Goddess of motherhood, magic and fertility)
Lunette
Nata
Nissa
Rosalva
Shea
Tania
Tatiana
Xylia
The Dryad's status function takes a long time to update, or may not update at all.
Update Info
Edit
Is now designated a randomly generated name when spawned.