Dungeon Guardian
100%px

Stats
HP
9999

Rarity

Common

Variety

(After dawn)

---

Skeletron
Skeletron Prime

Attack

9000

Defense

9000

Spawn Time

Any, so long as Skeletron isn't killed

Spawn Area

Drops

Nothing

Summoned By
The
Dungeon Guardian
is an enemy of the
dungeon
. If a player tries to break into the dungeon without killing
Skeletron
, this enemy will appear and kill him as soon as the dungeon music starts. In previous versions, Skeletron Heads were used instead of these. Also, If one player stands on the roof of the dungeon and another one goes into the dungeon and gets slain by a guardian, The guardian will exit the dungeon and kill the player on the roof, Proving that you can get the dungeon guardian out of the dungeon. The dungeon guardian can however be killed using a tunnel down through the roof to make a quick escape, and later use gravitational potions and a mini/megashark against it. It will always one hit you and you will always do 1 damage unless you get a critical which should do 2 damage.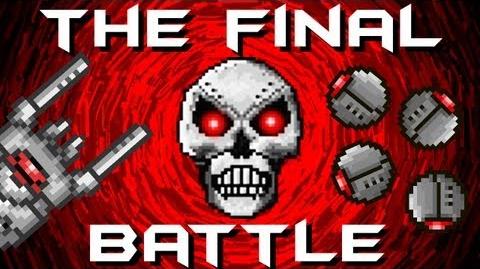 Before the Dungeon Guardian existed, killing all the Skeletron Heads was another way to gain access to the dungeon, so the Dungeon Guardian was created to circumvent this unintentional behavior.
The only way to fight the Dungeon Guardian successfully is on a medium sized world. It is possible on a small world but it is very difficult. Large worlds cause Dungeon Guardian to just disappear as it cannot keep up with you. Make sure to also destroy all floating islands. It is possible to kill the Dungeon Guardian by mining an open space above the tunnel going down into the dungeon which leads outside. Then use a Gravitation Potion right when the Dungeon Guardian is summoned. You will then fly up into the sky and as long as you keep your distance, you will be able to kill him. The Dungeon Guardian drops no loot at this time of development and has no death animation as it is not meant to be killed. Killing the Dungeon Guardian will not grant you access to the Dungeon. Killing Skeletron is still required.
If the player is in a underground tunnel that is near the dungeon, (eg. corruption) the dungeon guardian may go through the dungeon and into the tunnel to kill them. The only way to avoid this would be to defeat Skeletron .
Update Info