v

6

Eater of Souls

Stats
Type
Monster
Rarity
Common
HP
Small
Medium
Large
34 /

68


40 /

80


45 /

91

Attack
Small
Medium
Large
18
22
25
Defense
Small
Medium
Large
6
8
9
Spawn Time
(Anytime)
Spawn Area
The Corruption

Banner(?)

Eater of Souls Banner
Drops
(Small)     76  
(Medium) 90  
(Large)    103  

?

100%
Rotten Chunk
33.33%
Ancient Shadow Helmet
0.19%
Ancient Shadow Scalemail
0.19%
Ancient Shadow Greaves
0.19%
The Eater of Souls is a monster found prominently in The Corruption. It flies in an arc-like pattern, similar to Demon Eyes, and will bounce off of any solid objects that it touches.
The Eater of Souls can spawn from either Ebonstone or Corrupted grass, with large groups usually coming from Chasms. Since an Eater of Souls can cause a lot of damage, and due to the fact that they tend to spawn in groups, newer players are advised to avoid The Corruption until they obtain more powerful weapons and a higher defense.
On death, an Eater of Souls has a chance to drop Rotten Chunks which, when combined with Vile Powder at a Demon Altar, creates Worm Food to summon the Eater of Worlds, which is a Corruption-themed boss monster.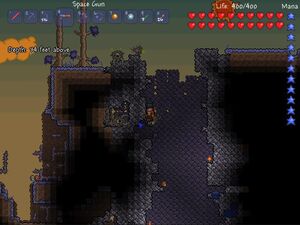 Notes
Be sure to use caution when using Ebonstone to build, as it can easily attract these creatures. This can be used as a tactic in pvp battles to slow down enemies.
Since they fly, it would be a good idea to have either a ranged weapon or a weapon with long range (e.g. Guns) when venturing out into The Corruption, or a weapon strong enough to get them when they make their first dive. (Such as the Blade of Grass.)
Trivia
Update Info
Chance to drop Ancient Shadow Armor parts reduced from 0.22% to 0.19%.
May no longer enter water
AI altered - Eater of Souls now surround players before charging.
References