Ectoplasm is a crafting material dropped from Dungeon Spirits, which spawn rarely from any mob that has 100 HP or more. This can only occur in

(Hard Mode) Dungeon after Plantera has been killed.
It is used in crafting the Spectre Armor set, along with tools that possess an extended range.
Farming
A good way to farm for
Dungeon Spirit
is to build a cage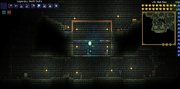 in the center of two hallways. This allows you to pool enemies underneath you, while still being able to see all around yourself. The cage helps fight
Necromancers
since they move after being hit once.
Make sure you have a weapon that can move through walls (example: Death Sickle). Now it's simple. Just kill the enemies as they spawn and this should, safely, give you around 50 Ectopslasm per hour.
Notes
All tools made with Ectoplasm share a common feature, +3 range
To make all the of the Ectoplasm items, it would take 129 Ectoplasm. That includes the 5 per Pumpkin Moon Medallion.
Update Info