The World of Terraria consists of many different types of Environments, also known as Biomes contained within Layers. These environments are characterized by unique enemy spawns, block formation, loot tables, and oftentimes a background.
For a list of all pages pertaining to environments, see Category:Biomes.
Layers
Major Biomes
Minor Biomes
Other biomes
sword in stone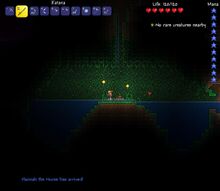 It contains a the legendary magic sword in the middle.