v

 

Eskimo Armor

Information
Type
Armor
Sub-Type
Armor Set
Body Slot
Helmet/Shirt/Pants Slots (Full Set)
Defense
4
Quality
Dropped By
Zombie Eskimo
Drop Rate
0.67% (1:149) per part
Sell Value
2  40  
The Eskimo Armor consists of: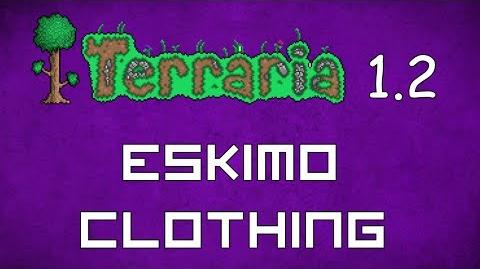 Spawns
The pieces of armor can be obtained as an rare drop from Zombie Eskimoes, which spawn in Snow Biomes during the night. Drops are not limited to any previous drops collected, making farming the set possible.
Stats
The Helmet and Greaves each give 1 armor unit and the Chestplate gives 2. The Eskimo Armor has equal stats to Copper Armor (minus the set bonus), but requires no materials, and therefore is a better alternative to copper provided the player spawns near a snow biome. However, all armor past copper renders the Eskimo Armor useless as armor, and afterwards is better used as a vanity.
Trivia
The Eskimo Armor is based off of the parkas eskimos would wear.
The Eskimo Armor and Pink Eskimo Armor look similar to the clothing worn by Popo and Nana from the Ice Climbers series.
Update Info