Excalibur
was the strongest sword in the game prior to
PC v1.2
, but has now been superseded by the
True Excalibur
,
True Night's Edge
 and their combined power, the
Terra Blade
, along with a few others. It is part of the
Hallowed
weaponry set. Excalibur can
continuously attack
, which can be useful for charging into a group of enemies. Like all Hallowed weapons, Excalibur gives off a faint glow and emits a sparkle effect when swung.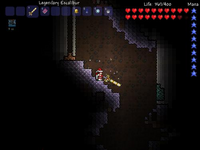 Notes
While swinging this item, you cannot turn around but you can "Moonwalk" (walk backwards while swinging), similar to the War Axe of the Night, The Breaker, and several other items. This can be troubling when combating enemies from both sides.
In the Underground Hallow, there exists a Enemy called Enchanted Sword which looks exactly like this, but with a blue glowing field around it.
In the Console Version, this is the second-strongest sword in the game, behind Tizona. It is also a recolored version of this.
Was the best sword in the game, but Cutlass beats it by speed, and True Excalibur is better in damage, just like the Night's Edge, it was it's best version, until the "true" versions came of it. The new best sword is the Terra Blade.
The best modifier for this sword is legendary, meaning the sword would say "Legendary Excalibur"
Trivia
The sword's name comes from Arthurian legend, where Excalibur is the sword of King Arthur which is either pulled from an anvil on a stone or given to him by the Lady of the Lake. Depending on the telling of the legend, Excalibur is a magical weapon and/or a symbol of the rightful ruler of Britannia.
Excalibur is said to be the holy sword of the gods. This is reinforced by the fact that the sword in-game is a Hallowed weapon.
Update Info
Is now forged with Hallowed Bars instead of being forged from Mythril, Cobalt and Adamantite swords. Now a material for the True Excalibur and Terra Blade.