Explosives (item)
Comments

67
1,349pages on
this wiki
This article is about the item. For the item group, see Explosives.
The Explosives are an item that can be remotely activated and work like placeable Dynamite, though they have a larger blast radius (20 squares, diameter). Their damage is around 500-800. Explosives work well for traps. Sometimes such traps can be found underground. If you or some walking mob nearby suddenly dies in the huge explosion, it was such a trap. You can always find a pressure plate and a short piece of wire in the cave caused by the explosion. When wired to a pressure plate some would even call it a landmine.
Explosive traps have an extra danger when playing in mediumcore mode. If a player dies from an explosive trap, their items are dropped before the block items are. Since the item limit is only 200, many of a player's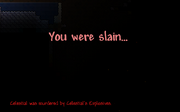 items may be replaced by blocks created by the explosion. Because of this, explosive traps can be more harmful than lava, since all items can be deleted by an explosion, unlike lava which only deletes black and white tier items.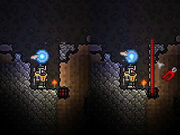 Update Info
Edit