Fallen Stars
are
items
which randomly fall from the sky at night, potentially killing any enemies they hit, although they do not kill the player. They glow like
Blinkroot
, but are about as bright as a
Torch
. The light they give off glows through a short spectrum of colors; mainly yellow and pink. Ten Fallen Stars can be crafted to make a
Mana Crystal
, which increases a player's maximum mana by 20 when used.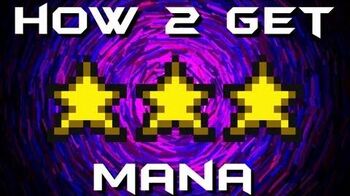 The tooltip is slightly misleading. It says "Disappears after the sunrise," however, Fallen Stars in your inventory, chests, safes and Piggy Banks are safe. Only Fallen Stars on the ground disappear during the day. This includes stars that are dropped from the inventory, which means using caution when trying to give stars to other players or when exiting the Guide's crafting menu during the day. Mana Crystals, on the other hand, are not affected by daylight.
In addition to its usage in various crafting recipes, Fallen Stars also serve as ammo for the Star Cannon.
One of the best ways to collect Fallen Stars is to build a giant Skybridge and run along it at night while wearing Hermes Boots and holding a Water Candle.
A Fallen Star deals 1000 base damage in the rare event of impact on enemies, which can be useful when fighting bosses.
When falling, they appear to be spinning.
Fallen Stars spawn from the top of the world. They can be easily located by the flashing light and sounds.
Fallen Stars that are falling won't disappear during daytime, but disappear immediately when they hit ground. This means that stars spawn in phase where they only fall and can't be collected until they hit ground and turn into items.
Fallen Stars can make random sounds when clicking anywhere on screen.
Sometimes, if a falling star hits a vertical pillar of blocks and not the ground, that Fallen Star item may float in mid air, attached only to the pillar and not fall down to the ground.