v

 

Familiar Outfit

Information
Type
Vanity Item
Sub-Type
Body Slot
Helmet/Shirt/Pants Slots (Full Set)
Set Name
Familiar Outfit
Quality
Purchase From
Clothier
Purchase Value
3  
Sell Value
60  

Crafting
This item cannot be crafted.
The Familiar Outfit is a vanity outfit which consists of the Familiar Wig, Familiar Shirt and Familiar Pants. This outfit was designed to resemble a player's character. The Clothier sells these vanity items for 1 

each.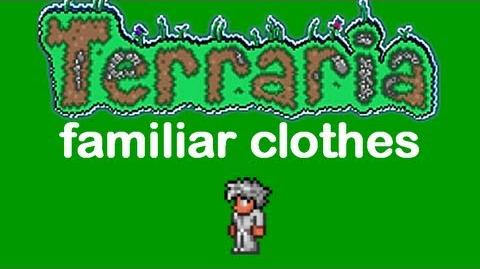 The Familiar Clothes are most often used to hide the player's armor, so they can have the armor's effect without changing the appearance of their character. The Familiar Clothes are affected by the Invisibility Potion, thus allowing the player to become completely invisible even while wearing armor. Familiar Clothes are sometimes used in multiplayer to trick the other players. However, if the player is wearing any type of wings, other players can still see their wings. This also goes for any pet that is currently active.
Notes
The Familiar Clothes are the only apparel items that cannot be placed on a Mannequin. (This is likely because the items seem to be scripted; instead of showing a set sprite, it takes its sprite from the player's original choices.)
Ad blocker interference detected!
Wikia is a free-to-use site that makes money from advertising. We have a modified experience for viewers using ad blockers

Wikia is not accessible if you've made further modifications. Remove the custom ad blocker rule(s) and the page will load as expected.