Farming is the intentional creation of resources to be collected repeatedly over time. Many kinds of farming involve planting Seeds to grow grass, trees, or flowers, though some kinds of farming such as Crystal Shard or statue farming do not involve seeds. Seeds include:
To farm trees, you will need Acorns which can be obtained when you chop down a tree. A tree farm is just a flat area with acorns planted. The saplings have to be spaced apart with 2 empty spaces on either side. Periodically "Mow the lawn" or cut the Grass on your tree farm because it stops trees from growing in those places. If you have access to the Jungle, then you can skip the acorns entirely, as Jungle trees grow automatically on the Jungle floor.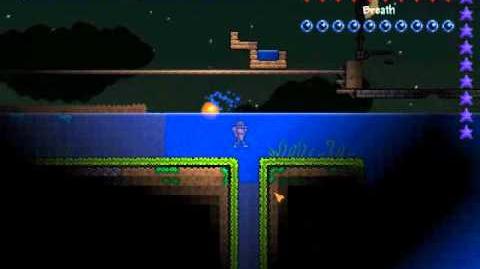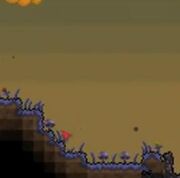 You can create a Vile Mushroom farm using Corrupt Seeds. If it's close enough to your NPCs, the reduction in enemy spawns will keep any mobs from showing up. However, you still need to be careful, as enemies may still be able to spawn if the Corruption spreads too much. Creating corrupted terrain too close to your NPCs will make them leave their Homes.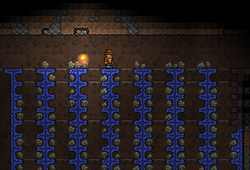 Farming these may be your best choice. To create a farm you must first have Mushroom Seeds (obtained from cutting down mushroom grass). Place rows of mud in any location that is in at least the dirt layer of the Underground and plant your seeds.
Mushroom Farms
Edit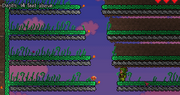 To create a regular Mushroom farm make sure there is no wall behind it so it has natural lighting and make long platforms of grass. Mushrooms will grow on these and you can then harvest them.
Flower Farms
Edit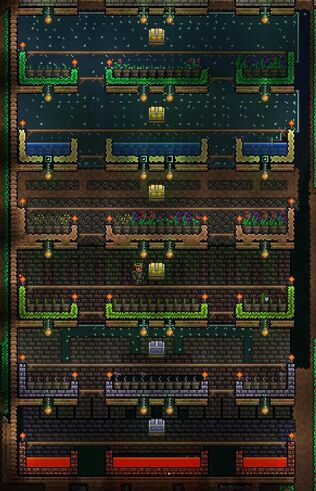 There are various flowers that you can farm that are useful while making Potions. Clay Pots are a good way to plant flowers, but they can also be planted in normal dirt. However, clay pots are also used for decoration purposes and a worthless flower will eventually grow up if nothing is planted in it. These flowers can't be harvested - they're basically equivalent to the basic vegetation found in most biomes. If you are farming flowers in a pot, you can harvest them with a Pickaxe. Plants will only drop seeds if they are 'blooming' (ie. fully grown).
Here is a list of the locations and blooming conditions of all the flowers:

Blinkroot blooms randomly. Can be found Underground. Seeds can only be harvested when the flower is blinking, emitting small amounts of light.

Daybloom blooms at Daytime. Found aboveground in any biome but Corruption.
Moonglow blooms at Nighttime. Found in Above/underground Jungle.

Deathweed blooms in Blood Moon. Found in Corruption.

Fireblossom blooms if touches lava. Found in Underworld.

Waterleaf blooms if touches Water. Found in the Desert.

Nature's Gift doesn't bloom. Found in the Underground Jungle.

Jungle Rose doesn't bloom. Found in Jungle.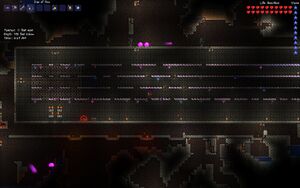 Crystal Shards are possible to farm if you have unlocked Hardmode. To make this farm, you will need to have an Underground Hallow area, Pearlstone, and some Torches for lighting the area. When you found an area where you can see some Crystal Shards growing, clear out an area and make a good size square out of your Pearlstone. Add some rows that your character can walk on, and you'll have a Crystal Shard Farm. Hallowed monsters will start spawning in the farm due to the Pearlstone, though putting up a background wall in the area will prevent this to a degree.
In order to farm bunnies for money, hook up a pressure plate to a bunny statue. Wait for a Blood Moon, then activate the pressure plate and step off of it on the side the statue is not on. The corrupt bunny spawned by the statue should move towards you and activate the pressure plate again, spawning additional bunnies (the Bunny Statue presumably does not check the existence of corrupt bunnies when deciding how many are allowed to be spawned at once). As the bunnies approach you, use any weapon that can be used continuously or held out (flails, the Muramasa, etc.) and reap the profits.