v

1951

Festive Wallpaper

Information
Type
Wall
Sub-Type
Wallpaper
Placeable
Yes
Max Stack
999
Quality
Purchase From
Painter
Purchase During
Christmas
Purchase Value
1  
Sell Value
20  

Crafting
This item cannot be crafted.
The Festive Wallpaper is a placeable block that is used in the background, which can be bought from Painter during Christmas. It does not block monsters from walking into your home. Along with a light source, it is used to prevent Monsters from spawning. Like all Walls, it can only be broken with a hammer or a hamaxe. It can also be destroyed using explosives.
Notes
Walls are a criteria for housing.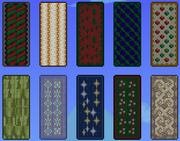 Update Info