The
Fiery Greatsword
is a
Hellstone
class
weapon
that has a very long reach (equivalent to the
Blade of Grass
). It has a
quality
of 3, deals 36 melee
damage
(42 damage with
Molten Armor
set on) and has a "Slow" attack speed. The sword also gives off a fiery glow when used like the other molten items.  This weapon is good for normal mode, but it is recommended to upgrade to a
Mythril Sword
once
hardmode
is reached.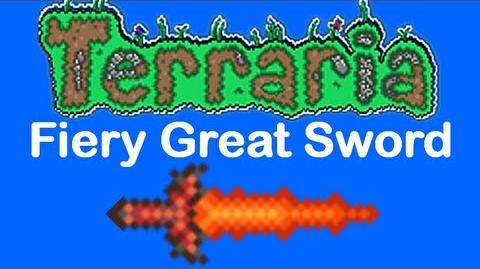 The Fiery Greatsword emits light in the form of fire particles when it is swung, making it useful for finding Ores and caves through blocks.
The slow attack speed can be compensated for by using Feral Claws or the Shadow Armor.
This sword is not on the Top 3 of the best pre-hardmode swords, because of the fact that the Night's Edge is just a better version of this sword.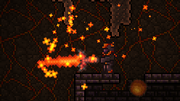 Update Info
Edit
Attack speed changed to "Slow".
Has a chance to give enemies the "On Fire!" debuff.