v

121

Fiery Greatsword

   
Information
Type
Weapon
Sub-Type
Broadsword
Damage?
36
Inflicts
On Fire!
Use Time
34 (Slow)
Knockback
6.5 (Strong)
Continuous Attack
No
Highest Prefix

?

Legendary
Quality
Tooltip
It's made out of fire!
Sell Value
54  
The Fiery Greatsword is a Hellstone class weapon that has a very long reach (equivalent to the Blade of Grass). It has a quality of 3, deals 36 melee damage and has a "Slow" attack speed. The sword also gives off a fiery glow when used like the other molten items.  This weapon is good for normal mode, but it is recommended to upgrade to a Mythril Sword or a Orichalcum Sword once Hardmode is reached. It is also a part of the Night's Edge.
Notes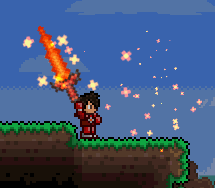 Update Info
Sprite changed.
Now only requires 20 Hellstone Bars instead of 35.
Attack speed changed to "Slow".
Has a chance to give enemies the "On Fire!" debuff.
Gallery