The Flame Dye is a dye that can be created by combining Yellow, Orange, and Red Dye at a Dye Vat. The dye combines all three colors to make a nifty flame effect. Flame Dye is one of the harder dyes to get, as it requires 3 ingredients, as opposed to most dyes that only require one. On top of that, the Red Husk is quite difficult to get because it is hard to find a Cochineal Beetle.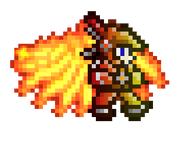 Notes
Certain sets of armor will not change color when equipped with this dye.
Update Info
Ad blocker interference detected!
Wikia is a free-to-use site that makes money from advertising. We have a modified experience for viewers using ad blockers

Wikia is not accessible if you've made further modifications. Remove the custom ad blocker rule(s) and the page will load as expected.