Not to be confused with the Staff of the Frost Hydra
v

726

Frost Staff

   
Information
Type
Weapon
Sub-Type
Spell
Damage?
44
Mana Cost
14
Use Time
19 (Very Fast)
Knockback
5 (Average)
Continuous Attack
Yes
Quality
Tooltip
Shoots a stream of frost
Dropped By
Ice Elemental
Icy Merman
Ice Golem
Drop Rate
2% (1:50)
Sell Value
10  

Crafting
This item cannot be crafted.
The Frost Staff is a Hard Mode spell that shoots a shard of ice followed by icy particles. The projectiles can only pass through one enemy until they break. When the projectile breaks, it emits a fair amount of light.
This weapon is good for early Hard Mode as it has good damage and is relatively easy to obtain. The piercing ability also adds to how useful it can be.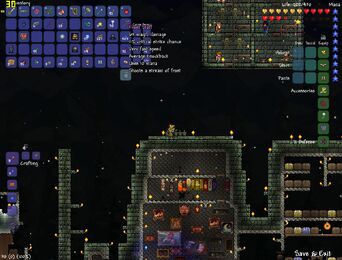 Trivia
Update Info