The Groom
is a rare
Zombie
-like enemy that drops the
Top Hat
. It spawns only during a
Blood Moon
. The Groom should appear after about seventy Zombies are killed, but has been known to spawn before that amount has been reached. Several Grooms may spawn during a single Blood Moon. If farming grooms, it is advised to do it in the jungle, where the spawn rates are higher.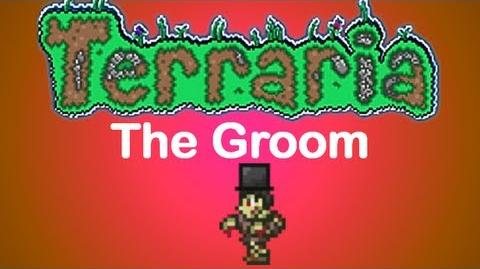 An easy way to obtain multiple top hats is to set up a Lava Trap and wait for zombies to walk into it. After about 70 zombies fall into the trap, The Groom should appear, and fall right into the lava. When doing this, make sure the lava isn't too deep or the Top Hat will be destroyed.
The fact that he is an undead 'Groom' may be a joke referencing the "Corpse Bride" story or the Jewish folklore in which it's based.
It could also be referencing the movie "Kill Bill" in which the protagonist, named "The Bride", is thought to be dead.
The Groom does not drop the Top Hat if killed by a trap or environmental source like lava or dart traps.
Update Info
Edit
Fixed a bug that made the groom unable to spawn.