The
Guide Voodoo Doll
is used to kill the
Guide
, and is dropped by the
Voodoo Demon
100% of the time. If you equip it in one of the accessory slots, it will allow you to attack and kill the Guide. If the Guide Voodoo Doll falls into
lava
it will instantly kill the Guide, and summon the
Wall of Flesh
.
As of 1.1, if the guide is alive, and a Guide Voodoo Doll was dropped/thrown in lava, while the player was located in the Underworld, the Wall of Flesh will be summoned, and the guide will be killed. If the Guide is already dead, dropping the doll into lava will not do anything. Killing Voodoo Demons above lava in the Underworld carries a certain risk; the risk of the Guide Voodoo Doll accidentally falling into the lava and summoning the Wall of Flesh.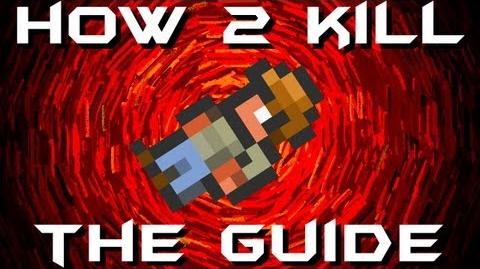 Notes
If you kill the Guide, he will respawn, provided the requirements for a NPC's house are still met and it's daytime.
If you haven't killed the Wall of Flesh and you have the Arms Dealer, the Arms Dealer will usually say when you talk to him: "I heard there is a doll that looks very similar to <Guide's Name> somewhere in the underworld. I'd like to put a few rounds in it.", referring to the doll and where you find it.
In the mobile version, you don't have to drop the doll in lava, just use it by tapping, and the Wall of Flesh will spawn at once.
In the mobile version, the tooltip is "you are a terrible person" but "consume this item in the underworld to summon a monstrous boss" is also added.
Since the Guide Voodoo Doll acts like a boss summoning item in the mobile version, it can be used for an infinite amount of uses in with the infinite use glitch.
Update Info
The Guide Voodoo Doll is used to summon the Wall of Flesh.