The
Hallowed Set
is currently the fourth-strongest armor (on the
Console Version
) in the game in terms of defensive power and the strongest armor on the PC (as of
PC v1.1
).
Note
:
All head-wear is made using 20 Souls of Sight
The set is different from the other normal armor sets mainly because it is made out of 3 entire different sets: The Cobalt Armor, the Mythril Armor and the Adamantite Armor, along with 20 of each type of Soul (Souls of Sight, Souls of Fright and Souls of Might) that can only be obtained by killing the upgraded bosses, namely The Twins, The Destroyer, and Skeletron Prime.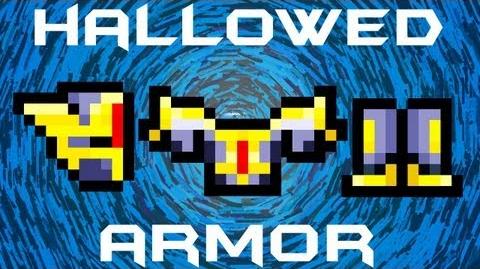 In addition, the set changes its bonus according to the helmet the player wears: A Hallowed Mask, for example, gives some good melee power bonuses.
Parts of the Set
Edit
15 defense
7% increased critical strike chance
11 defense
8% increased movement speed
7% increased damage
5 defense
Increases maximum mana by 100
12% increased magic damage and critical strike chance
9 defense
15% increased ranged damage
8% increased ranged critical strike chance
24 defense
10% increased melee damage and critical strike chance
10% increased melee speed
The Hallowed Helmet, combined with the Megashark, gives a 62.5% chance to not consume ammo with every shot.
Although in other sets the helmet is melee and the mask is ranged, this is reversed in the Hallowed set.
The term 'Hallowed' is used to describe something blessed by a deity, and as such these items may be described as having 'godlike' power.
Hallowed Armor is the only set of armor or tools to be made with souls (Disregarding the Hamdrax, which is considered to be of the Hallowed Tier).
This armor combines the visual effects given by the armor sets used to craft it: an after-image (Cobalt Armor), shine (Mythril Armor), and pulsing aura (Adamantite Armor).
Update Info
Edit