v

552

Hallowed Greaves

   
Left: All the Hallowed Armor sets
(top: male; bottom: female)
Information
Type
Armor
Sub-Type
Armor Piece
Body Slot
Pants Slot
Bonus
7% increased damage
8% increased movement
Set Name
Hallowed Armor
Set Bonus
See Hallowed Armor
Defense
11
Quality
Sell Value
3  
The Hallowed Greaves is the Leg-slot item of the Hallowed Armor set. They can be crafted at a Mythril Anvil/Orichalcum Anvil with 18 Hallowed Bars. When wearing the full set, your character will gain the "aura" and "shadow trail" effects (Pulsating Armor and Motion Blur).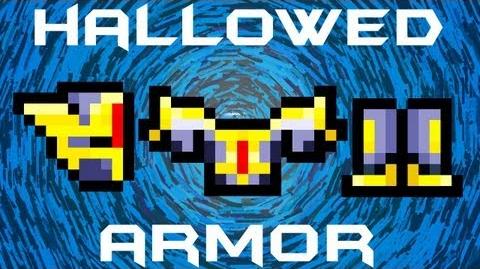 Update Info
crafting recipe changed to use Hallowed Bars.
Ad blocker interference detected!
Wikia is a free-to-use site that makes money from advertising. We have a modified experience for viewers using ad blockers

Wikia is not accessible if you've made further modifications. Remove the custom ad blocker rule(s) and the page will load as expected.