v

559

Hallowed Mask

   
Left: The full armor set (male & female)
Information
Type
Armor
Sub-Type
Armor Piece
Body Slot
Helmet Slot
Bonus
10% increased melee damage and critical strike chance
10% increased melee Speed
Set Name
Hallowed Armor
Set Bonus
+19% Melee and Movement Speed
Defense
24
Quality
Sell Value
5  
The Hallowed Mask is one of the helmet slot items from the Hallowed Armor set. It can be crafted at a Mythril Anvil/Orichalcum Anvil with 12 Hallowed Bars. This Mask, when worn with the Hallowed Plate Mail and Hallowed Greaves, gives the "aura" and "shadow trail" effects (Pulsating Armor and Motion Blur).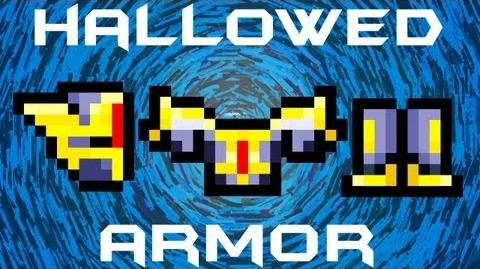 Trivia
Despite the fact that all other pre 1.2 hardmode armor sets have the melee head-piece named a helmet, the Hallowed Mask goes against this trend.
Update Info
Crafting recipe changed to use Hallowed Bars.