The Hamdrax is a hammer, drill, and axe all in one. This hybrid is the best hammer and drill, but is not the strongest axe in the game. Despite having a lower axe power than the Molten Hamaxe, the Hamdrax is still the most effective axe because of its speed. Like all chainsaws and drills, it cannot be reforged with the "Legendary" prefix because it cannot get a size modifier like any drill. It is a great tool for mining, cutting down trees, or anything that uses a hammer. Also, its commonly used for griefing in servers, because it can destroy many blocks fast.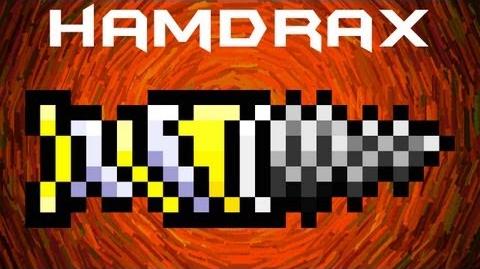 Much like the Hamaxe, the Hamdrax's name is a portmanteau of the tools whose purposes it serves: Hammer, Drill, and Axe. "Ham" as in Hammer, "Dr" as in Drill, "Ax" as in Axe.
The Hamdrax is the only item that requires souls from all three Hard Mode bosses to be crafted.
This tool is extremely useful for digging, but can be a hindrance when building as it instantly breaks blocks, walls, and furniture.
Although the Hamdrax is surpassed by the Molten Hamaxe in terms of axe power, it has a much higher speed, allowing it to chop trees much more efficiently than any other wood-cutting tool.
The Hamdrax can mine everything instantly except for spikes, Mythril Ore, and Adamantite Ore, for which it takes a small delay, and so happens with dirt blocks with grass too.
The Hamdrax can destroy Demon Altars, but only if the world has Hard Mode enabled.
It is still possible that the reason the Hamdrax can function as a Hammer - disregarding the fact that no hammers are used in the crafting of it - could be on the principle of a Hammer drill.
Update Info
Edit
Can no longer be reforged with size modifiers.