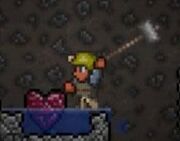 Hammers are tools used to interact with objects that aren't solid foreground blocks, such as Heart Crystals, Shadow Orbs, Walls, or furniture (Wooden Tables, chests, Furnaces, etc.)
The hammer is also used to destroy Walls that have been placed by the player. Naturally occurring walls, such as cave walls, are unaffected by hammers unless broken from the edges. This includes dirt wall, stone wall, ebonstone wall, pearlstone wall, molten wall, dungeon brick wall; even if they are used for your house they must still be broken from the edges.
The Breaker is the only hammer that can be used as a weapon on par with other weapons of its tier (does a big 24 damage and heavy knockback.)
Although low-tier hammers have futile damage, they can still be used to knock enemies away since they have good knockback.
There are a total of 10 different hammers:
Hammer
Damage
Hammer Power
Speed
Materials to Craft
Wooden Hammer
2
25%
Average
8 Wood
Copper Hammer
4
35%
Slow
10 Copper Bars, 3 Wood
Iron Hammer
7
45%
Average
10 Iron Bars, 3 Wood
Silver Hammer
9
45%
Average
10 Silver Bars, 3 Wood
Gold Hammer
9
55%
Average
10 Gold Bars, 3 Wood
The Breaker
24
55%
Very Slow

10 Demonite Bars, 5 Shadow Scales

Meteor Hamaxe
20
60%
Average
35 Meteorite Bars
Molten Hamaxe
20
70%
Average
Pwnhammer
26
80%
Average

Only hammer that is not crafted: Dropped only by the Wall of Flesh

Hamdrax
35
85%
Fast

1 of each: Cobalt Drill and Chainsaw, Mythril Drill and Chainsaw, Adamantite Drill and Chainsaw.


5 of each: Soul of Fright, Soul of Might and Soul of Sight