A Hellevator (or Hellvator), is Terraria jargon for a mine shaft from the surface to The Underworld. Most players place some water or a Cobweb at the bottom of it to avoid fall damage. Another way of surviving the fall is by using either a grappling device, any item that allows flight, a Cloud in a Bottle, or a Cloud in a Balloon shortly before hitting the bottom (although this method requires some timing and accuracy).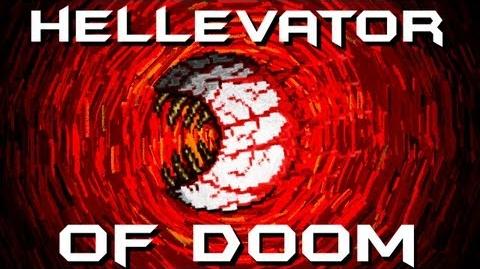 A
Lucky Horseshoe
,
Rocket Boots
or
wings
are also favorable because the
wings
or
Lucky Horseshoe
negate all fall damage while the latter is able to prevent it with a bit of hovering; however, it can be more difficult to find these than a
Hook
. Another useful method to lessen fall damage in the Hellevator is to place cobwebs at strategic points. They will slow a player's fall and prevent damage, but caution must be taken, as the cobwebs can be easily removed by the careless swing of a weapon. An issue with this method, however, is that as of
1.0.6
, cobwebs fall after slowing you for the time it takes to slowly fall through them. Another safe method to get down the hellevator is to grab a bucket of water, then stand at the edge of your hellevator. Now pour the water into the hellevator and jump in, you will fall with the water safely, and slowly, to the bottom of your hellevator. Another method involves a
Cloud in a Bottle
; however this is not ideal as it requires quick reactions, since you must use a double jump to reset your velocity just before hitting the bottom.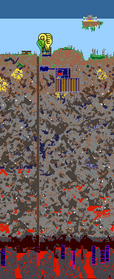 An alternative, although time consuming, method is to place Wood Platforms all along the Hellevator. If placed at intervals that are under the falling damage threshold, one simply has to hold 'down' (S key), and they will proceed down the Hellevator quickly without taking falling damage. One advantage of this is the ability to stop at points of interest along the way (for Glowing Mushroom harvesting, as an example). Another advantage is the ability to easily stop along the way to find bodies of water. Draining water into your Hellevator will help create Obsidian barriers on the lava pools often found just above The Underworld, however, as of patch 1.0.5, it is much harder to get water into the Underworld. One method is to create a hellevator near the edge of the map (but not at) inside the ocean and drain water consistently into the depths. A great deal of the water will evaporate but you can eventually pool against lava for obsidian farming.
Water Docks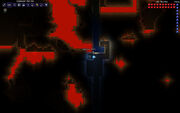 Water docks are used in hellevators to prevent water from traveling with you all the way to hell. The lower part can easily be taken out to let the water flow, and maybe end up in lava, becoming an efficient way to farm Obsidian.
To build a vertical water dock, just start digging stone at one of the sides (right or left) parallel to the water tunnel, letting an air vent so the water can't keep going. Next, keep digging following the path of your water tunnel, this way you'll be holding all the water all the time you want. By removing the lower part of the dock, you can open and close the dock, letting all or just part of the water flow out.
Water Filling
Water Filling is a process where you destroy the existing water in the way of your hellevator in order to continue straight down with nothing in your way. Earlier it worked with lava as well, but as of 1.0.6, you can't place blocks in lava. To water fill, just place any block of material (stone, dirt, mud, etc.) in the water you are trying to hellevate through. After you place a row of blocks in the water below you, simply mine downward and the water will be gone. Sand can be used to quickly fill in the columns below your platform, but is not recommended for use as the walls of the shaft when going through water. Doing so risks flooding the shaft if a mistake is made, and replacing it with some sturdier and less dangerous material is tricky.
Note: Water Filling no longer works as of 1.1, as a water block replaced with a solid block (e.g. dirt) simply reverts back to water when the dirt is mined. This method can still be used, but one must log out after placing the dirt, then log back in to mine it.
Obstacles
While crafting or riding your Hellevator you may run into certain things that will end up injuring or killing you. Elements like water and lava can invade the mining of your Hellevator.
While riding you may be attacked by Skeletons or other underground monsters. If you don't have an item or effect that cancels falling damage (such as a Lucky/Obsidian Horseshoe, Wings, Cobalt/Obsidian Shield or the Featherfall buff), you will have to exercise extreme caution.