The
Hellfire Arrow
is a type of ammunition found in
Chests
and
pots
in
The Underworld
.
When shot, it creates a particle effect that illuminates the area. It creates a small explosion upon impact similar to that of a Grenade. Hellfire Arrows cannot be regathered after being shot, probably because of the explosion destroying the arrow. They can be bought from the demolitionist after enabling hard mode. (defeating the Wall of Flesh)
Hellfire arrows are largely available after Hard Mode, being able to be found, crafted and bought. Pots in the Underworld can provide about 10 at a time, Wooden Arrows can be crafted into Hellfire Arrows using one Hellstone Bar and some Wooden Arrows, and they can also be bought from the Demolitionist after Hard Mode. Some consider these arrows as some of the best in the game, being widely available and doing a lot of damage. The downside is they are expensive to make and to buy in quantities (if you take that approach), they can damage you from the explosion and they can't be picked up after being shot.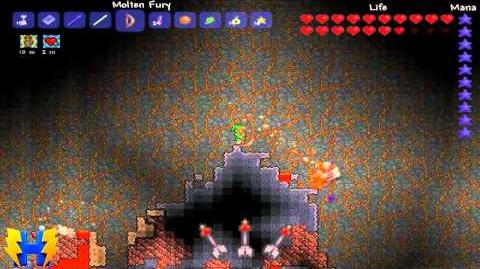 If you fire the arrow too close to you and it explodes, it will inflict damage on you (About 90 Depending on your armor). Be cautious not to shoot it too close to you.
Hellfire Arrows are found commonly in The Underworld.
Unsalvageable; once fired, the arrow will be destroyed upon impact caused by the explosion.
The pure damage the arrow does on its own is second only to cursed arrows, although the falling stars from holy arrows easily out damage them.
They can be bought from the Demolitionist for 1 silver each after Wall of Flesh has been beaten in the Underworld.
Update Info
Edit
Hellfire Arrows became craftable and buyable