v

3019

Hellwing Bow

   
Information
Type
Weapon
Sub-Type
Bow
Damage?
20
Use Time
13 (Very Fast)
Knockback
5 (Average)
Continuous Attack
Yes
Quality
Tooltip
Wooden arrows turn into flaming bats
Found In
Shadow Chests
Sell Value
4  

Crafting
This item cannot be crafted.
The Hellwing Bow is a Bow found in Shadow Chests. It turns Wooden Arrows into projectiles similar to the appearance of Hellbats which have a piercing effect.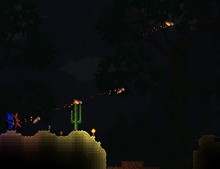 This is one of several weapons which benefit from the Endless Quiver for creation of special ammunition; using it with this bow will essentially result in unlimited Hellwing Bats.
Update Info
Ad blocker interference detected!
Wikia is a free-to-use site that makes money from advertising. We have a modified experience for viewers using ad blockers

Wikia is not accessible if you've made further modifications. Remove the custom ad blocker rule(s) and the page will load as expected.